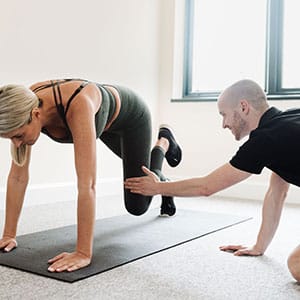 Personal Training
Kieran has been working within the health and fitness industry since 2013. His passion first started in college where he studied sport and exercise science.
Following the completion of the course, Kieran progressed his career by undertaking additional qualifications in personal training and group fitness training.
Since January 2019 Kieran has been part of our excellent team, providing health and fitness programmes to suit the individual needs for all of our clients.
Further to an assessment and rehabilitation advice, our personal trainer works closely with our lead physiotherapist to provide optimum recovery to your health and fitness.
Kieran will create a specialist programme that has been designed with your recovery and physical rehabilitation as the primary focus.
Training can be completed in your own home, your garden and even in public parks, cutting out the need to travel to achieve your health and fitness goals.
All programmes can be adapted to suit 1:1 and 2:1 training.