Massage Therapy in Banbury
There are various forms of massage therapy that can assist in easing your musculoskeletal aches and pains, add stretch and flexibility and enhance performance not only for sport but for your daily routines.
Our therapists at the Banbury Private Physiotherapy practice have accreditation in the performance of Sports, connective tissue, Swedish and other forms of massage to aid you to recovery from your ailments.
Massage therapy can be used as a stand-alone treatment but commonly it is employed alongside Physiotherapy programs to achieve your goals as swiftly as possible and if needs be maintain the status quo.
It can be used for a wide range of conditions.
Please Note: The therapist may use an oil or emollient to assist with the massage. If you have an allergy, please make this known before the therapy session commences.
All our massage therapists hold the necessary qualifications to perform massage therapy on clients who have undergone or who are looking for rehabilitation and relief from their clinical conditions.
They work along side the Specialist Physiotherapy team ensuring that each client has the most appropriate package of care for their needs, to promote healing, and to enhance a client's overall well-being.
Victoria
Victoria Frayne is a Professional Massage Therapist, qualified in Swedish and Deep Tissue Massage.
"The benefits of massage are on both mind and body, so whether you need to relieve tired, overused muscles or need to reduce tension, stress or anxiety, I can work with you to develop the right treatment to support your wellbeing. I've done work with athletes prior to events, keeping them relaxed, aiding good sleep patterns and positive mind set. I also have clients who have repetitive strain injuries (a podiatrist who's working position aggravates her achilles, for instance). Often clients comment on the impact a full body massage has on your overall feeling of well being"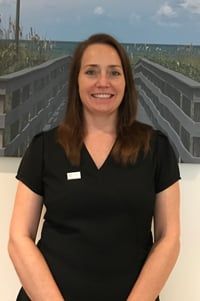 What types of massage therapy do we use in the practice and what would suit you?
Sports massage has physical and psychological benefits that can help everyone from those who undertake leisure activities to those who are performance athletes. It helps to reduce muscle soreness, boost performance, and aids flexibility. It also reduces DOMS (Delayed Onset of Muscle Soreness) as part of an intensive training regime.
Cardiovascular benefits are cited as supporting the tissues and dilating your micro-circulation, flushing away toxins and waste products like lactic acid, assisting with swift recovery.
Sports massage is proven to assist with Shoulder & neck problems
Back problems
Pelvic & Groin Strain
Hamstring Problems
Sciatica
Knee, Ankle & Foot problems
Swedish Massage is a basic relaxing full body massage which may include a variety of massage flowing strokes with other techniques such as such as rolling, kneading, and percussion to help the body improve circulation. As your body becomes relaxed pressure will gradually be increased to relax specific areas and relieve areas of muscular tension.
The benefits of this type of bodywork are wide-ranging and include relief from aches and pains and greater flexibility
Connective Tissue Massage
Connective tissue massage is not dissimilar to a Swedish massage but the pressure is firm as the therapist treats the deeper layers of the tissue to reduce tightening, or shortening of the connective tissue sheath. Which often shows itself as pain, stiffness, discomfort, or decreased flexibility anywhere in the body. When the tissues becomes shortened over time , the sheath loses flexiblity and resilience and tension becomes a permanent feature.
It is useful for chronic and musculoskeletal pain, muscle tension, and a loss of joint flexibility.
Hot stone therapy is an exceptionally relaxing treatment, providing a deep massage using hot basalt stones with the temperature tailored to the individual. The heat from the stones increases blood flow and relaxes muscles resulting in a variety of health benefits.
Hot Stone Therapy has proven accreditation to assist with can help with, muscular tension, mental stress related conditions and circulatory problems.
Some Frequently Asked Questions
Where will my massage or bodywork session take place?
Your massage or bodywork session will take place in a warm, comfortable room dedicated to massage therapy. music may be played to help you relax.
Must I be completely undressed?
The massage therapist will need to work on the area that is causing you concern. We would ask that you wear suitable clothing, but you may be asked to undress to your level of comfort. The body will be draped during the session.
What will happen during the massage or bodywork session?
Prior to the massage, the massage therapist will take an assessment with you . He/she will ask you about your condition, your medical history, medication and lifestyle choices.
During the massage, the practitioner will either gently move you or tell you what is needed throughout the session.
After the massage the practitioner will ask how you are feeling and ensure that you are comfortable. She/he will offer advice for your future wellbeing.
Are there any medical conditions that would make massage or bodywork inadvisable?
There are some conditions where massage therapy could be contraindicated such as early stages of pregnancy. Informing the practitioner of medical conditions assists us to bringing the best solution for you.